(this site is best viewed in 1027x768)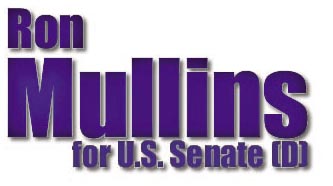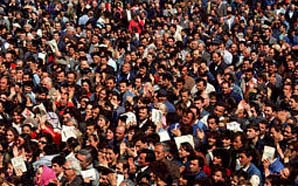 A vote for Ron Mullins is a vote for what our
founding fathers based this great country on.

---
---

Freedom from Taxation
Freedom of Speech
Freedom of Choice
Freedom to Worship
Freedom to Bear Arms



I, Ron Mullins, as your next United States Democratic Senator from Washington State;
who's election in the year 2000, support aggressive legislation to benefit the people which I am to serve.


| | | |
| --- | --- | --- |
| 1. Abolish our current federal tax system. In support of the Fair Tax. For detailed information on Fair Tax click here. | 2. All transportation liability insurance premiums to be collected at the time you purchase fuel. | 3. Support legislation to eliminate the Federal Government from using the Social Security Funds. |
| 4. Limitation of selling off of American Real Estate to Foreign interest. | 5. Pass legislation to stop the sale of alcohol where fuel is sold. | 6. As senator I'll work towards having the United States meet its international contractual agreement in its 300 plus treaties with the Indian Nations. |
| 7. Federal government would be prohibited from discriminating or granting preferential treatment based on race, sex, color, ethnicity, national origin in public employment, education and contracting, except for America's veterans. | 8. Replace the Attorney General with the Surgeon General to head the war against drugs. | 9. Support campaign reform; during any election no more than 34 cents per registered voter can be spent on any elected office by any candidate. |
| 10. Regulation of drugs. Holland could be used as an example to follow here in the United States. Prohibition has never worked in the past and it won't work today. To begin this process, I'll introduce legislation to regulate and tax marijuana. | 11. Prison system is one of the fastest growing industries in the United States, which incarcerates more people per- capita than any nation in the world. I am in favor of not incarcerating anyone for victimless crime. Our current criminal justice system discriminates based on race, gender, wealth and political indifference. All people must be treated equally. | 12. The environment is in need of immediate attention. Issues ranging from dying coral reefs to complete dead spots within our oceans; air we can't breathe, water we no longer can drink. As your Senator I'll make it my first priority to work toward being a good steward of the environment in which we all live. |
| 13. We must protect our 2nd Amendment rights to own a firearm. We need to prosecute for firearm violations and require a license for firearm ownership and usage. We must also raise the minimum age to 18 for ownership and usage of firearms. | 14. As senator I will introduce legislation of simple freedom of choice, to legalize marriage for same-sex couples. | 15. As senator I'll worked towards promoting legislation of Socialized Medicine for everyone within the United States. |
| 16. As Senator, I'll vote based on the issues and not party line. | 17. The strike on Serbia has been counterproductive and has made victims of civilians. | 18. Pro-Choice. |

I, Ron Mullins, would be in favor in privatizing Social Security, but in phases so Americans 65 and older could be sure there is no change in the benefits they've counted on. Those from 50 to 65 would have the choice of a system like the one used now or managing their own funds. People under 50 would be free to manage their own Social Security accounts and could pass the accounts down to their heirs.

---

Currently approximately only 70 cents out of every federal dollar that is designated for schools ever gets down to the children in the classroom. That is totally unacceptable. We need to be strong supporters of public schools & charter schools & the voucher system. When students leave the sixth grade, they should have been evaluated so that before reaching high school the student has been steered toward programs they're suited for. This would mean vocational programs for some and more traditional high school classes geared toward college for others.

---

At the age of 44 I have had many past experiences which as prepared me to serve you as your next Senator: A.T.A. Business Administration, South Puget Sound Community College; B.A. Environmental Studies, The Evergreen State College; Attended graduate school at Chapman University. Been elected as a County Hospital Commissioner, City Councilman & Democratic Precinct Representative. Appointed to the Board of Health for Shoalwater Bay Indians. Operations Manager of a sewage business.
---

I, Ron Mullins, ask for your vote in the upcoming primary and general election in the year 2000. Please evaluate our campaign platform as a whole. You may not agree with all my issues; however I'm not having a hidden agenda that you don't know about. I can't know everything; as for subjects that need research, I'll inquire knowledge from sources that know the subject in question and can provide information to me without bias, so I may make the decision based on facts, which will result in the most benefit to all. My greatest ability is to listen.

I ask for your help in making my dream as your next United States Senator a reality. Please pass this information on to a friend, relative or any registered voter. I can use all the help you can give; by you going out into your local communities providing this information to one person at a time. Each one of us has the ability to make a difference. With the People of Washington State behind me, I'll have the ability to succeed doing the will of the People of Washington State.

---
Vote Ron Mullins

Website created by:
Evan W. Saxton

Paid for and authorized by:
Ron Mullins, Candidate for
United States Senate - Dem.
P.O. Box F-1
Elma, Washington 98541
E-mail: ronmullins_2000@yahoo.com
The websites www.mullinsforsenate.org, surf.to/ronmull and members.tripod.com/ronmull are the only official websites of Citizens for Ron Mullins for U.S. Senate. While other websites may advocate Ron Mullins' election or the defeat of other candidates, and while they may contain links to this site or republish information or materials that we have made available to the general public, they are not authorized by Citizens for Ron Mullins, nor have they been coordinated in any way with the Ron Mullins for U.S. Senate campaign.